Characters
"
I've spent years torturing myself, asking myself why my father sacrificed himself for me. To get to this point where, I mean, I totally understand it. And I don't want you to have to go through that pain, Dr. Saltzman you've been through enough. And I don't want anyone at school to miss me, because they're my friends. Maybe I would have seen that sooner if I hadn't been beating myself up all this time.
"

— Hope to Alaric in There's Always a Loophole
Hope is strong and brave and doesn't hesitate to save those she loves or those who need it. I like the fact that she tries to be better, to keep the promise she made to her father. Even if in case of disappointment she can quickly become vengeful but admits later to have acted wrong. I also like the fact that she's open her heart to Landon and agree to be friends with classmates. The only thing I didn't like is when she lied to Landon about his mother, even though it was supposedly to protect him she didn't have to decide what Landon had the right to know or not. It seems even a little hypocritical to have lied to Landon when at first she was angry with him when he lied about the knife.
"
My name's not Hope Marshall. It's Hope Mikaelson. I'm Klaus and Hayley's daughter. And I know you don't remember this, but, um... you're the closest thing I have to a father now. And the entire world has forgotten that I exist, and the boy I love has moved on, so I have absolutely no idea what to do next.
"

— Hope to Alaric in This Year Will Be Different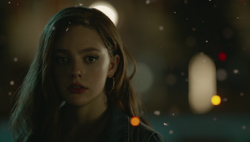 Hope proves once again to be a person with a big heart since even though she has several times had the opportunity to tell everyone who she is, she didn't do it because she didn't want to destroy the happiness of her friends. On the other hand even if I respect and admire her choices I think that her complex of martyr can really become annoying. To sacrifice oneself for the people we love is a noble act but she must also take the time to reflect on the consequence of sacrifice, which she doesn't always seem to do.
Relationships
Community content is available under
CC-BY-SA
unless otherwise noted.