This article is about Vicki Donovan from the TV series. You may be looking for Vickie Bennett from the novel series.
Victoria "Vicki" Donovan was a main character during the first season of The Vampire Diaries. She was Matt Donovan's older sister and the first character to become a vampire after the Salvatore brothers returned to Mystic Falls. She was also Jeremy and Tyler's love interest. She was turned by Damon Salvatore, and was later staked by Stefan because she couldn't control her hunger. She returns at the end of Season Two and during Season Three and Season Five as a ghost. In We're Planning a June Wedding, Vicki then comes back in real, corporeal form to ring the Maxwell Bell in order to give Katherine Pierce the capability of coming back to Mystic Falls from Hell.
Vicki was a member of the Donovan Family.
Early History
Vicki was born on August 20, 1991 to Peter Maxwell and Kelly Donovan, and was the older sister of Matt. The rest of her background is vague, but she mentioned that her father was never around and wasn't worth knowing. At some point, she began taking drugs to escape her domestic problems.
Throughout The Vampire Diaries Series
Personality
Vicki had a very blunt personality and didn't care what people thought about her. She also told people like it is as she told Elena off about her with being Jeremy and dumping her brother. She did, however, show she cared about her younger brother as she was furious about what Elena did to him and saying he should stay away from Rebekah. Even if she was shown being self centered and selfish when Esther asked her to kill Elena, she was shown being able to sacrifice herself when she accepts to go to Hell to protect Matt.
Physical Appearance
Vicki was a very beautiful young lady with long, brown wavy hair and green eyes. She was seen dressed in mostly dark colored clothes and some that were revealing. She wasn't entirely tall as Damon towered over her, and she is 5'4.
Powers and Abilities
Vicki possessed all the standard powers and abilities of a non-original vampire.
Weaknesses
Vicki had the typical weaknesses of a non-Original vampire.
Relationships
Donovan Family, Mystic Falls Gang, Mystic Falls High School, Mystic Grill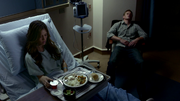 Vicki was always close to her younger brother, Matt. Growing up, both Vicki and Matt had to endure the hardship of an absentee father and a mother who rarely stepped into her role as a parent. Although Vicki was the eldest sibling, Matt often took an adult role in helping Vicki and himself. Matt often reprimanded Vicki for her consistent recklessness, which Vicki often did not listen to. However, when Vicki dies shortly after becoming a vampire, Matt believes that she skipped town. Matt is later heartbroken to learn the truth when it is revealed to him that Vicki has been dead. Despite her being dead, Vicki and Matt shared several scenes throughout the series while Vicki was on the Other Side. Season Eight was the last time Matt reunited with Vicki, but this was in order to stop her from ringing the bell to destroy Mystic Falls. However, she rung the bell anyway in an attempt to escape hell by erasing her existence, which worked in her favor; she was freed from hell and still existing afterwards. Vicki was last seen watching over Matt as a spirit as he rebuilt the town as a sheriff with their father, Peter Maxwell. After witnessing Matt's now-successful life, Vicki moves on with Tyler Lockwood into the afterlife.
Vicki shared an on-and-off romantic relationship with, Jeremy Gilbert. Before the start of the series, Vicki dated Jeremy, but broke up around the time his parents were killed in a car accident. After school starts, Jeremy begins pining after Vicki. After Vicki is attacked by a vampire, Jeremy continues to help her despite not being in a relationship with her at the time. Jeremy was still in love with Vicki and he told her about his feelings, but she did not want to settle with Jeremy and she was also dating Tyler at the time before she was attacked by a vampire. However, after Vicki and Tyler break up, Jeremy and Vicki begin another brief relationship before she is staked due to her bloodlust. Jeremy was devastated by Vicki's death, but as the series progressed, Vicki's spirit started to cause trouble for Jeremy and his friends/allies in Mystic Falls. Jeremy effectively ended any sort of relationship or friendship he ever had with Vicki when he began silencing her spirit out.
Other Relationships
Appearances
Name
Vicki is a short form of Victoria. From the Latin and Spanish, meaning "victory". It was the name of a Roman Goddess, popularized during the reign of Queen Victoria of England. But the full version of the name is considered too pompous, so it is often shortened.
Donovan is an American name and means "strong fighter". For the Irish meaning of the name it's "brown-haired chieftain".
Tropes
Trivia
The character of Vicki Donovan is based on the book character Vickie Bennett and who is not Matt's sister. In the novel, Vicki has a personality disorder due to the constant attacks of the vampires and is eventually murdered by an Old One vampire (Klaus). In the series, Vicki is converted into a vampire by Damon and is staked by Stefan to save Jeremy and Elena.
Vicki's novel surname "Bennett", was used in the series as the surname of another character, Bonnie Bennett.
Vicki is the first main female character to be killed off in the series and the first to return after dying.
Vicki is the first main female character to be turned into a vampire, followed by Caroline, Jenna, and Elena.

In season one, Vicki is the first to be turned into a vampire.
In season two, Caroline is the second to be turned into a vampire, and Jenna is the third.
In season three, Elena is the fourth to be turned into a vampire.

According to executive producers Julie Plec and Kevin Williamson, episodes 1-7 were denominated "The Vicki Chapter".
Vicki was in all of the episodes up until the 7th episode Haunted where she was killed.
Vicki has the lowest count of episode appearances out of all the main female characters and of all the main characters.
She never shared a scene with her mother Kelly.
Ironically, in the books, Klaus calls Vicki "Sweetheart" and she is brutally murdered, but in the series, Damon calls Vicki "Sweetheart" in the episode The Night of the Comet and she is staked by Stefan.
Vicki holds the distinction of being the female character with the the longest span between episode appearances (36).
Vicki is the first vampire to be killed off in the series.

Vicki was also the show's first supernatural kill.

Vicki has never met Klaus, Katherine, Jenna or Alaric. (However, it is possible that she might've seen Klaus in The Reckoning and Alaric in Smells Like Teen Spirit.)
Vicki is the second character to be shown as a ghost. Emily Bennett was the first.

Although Vicki is the first main character to do so. Alaric was the second.

Even though her character was killed in the 7th episode Haunted, Kayla Ewell was credited in the following episodes: 162 Candles and The Turning Point.
Vicki is the first main character to die in the series, followed by Jenna Sommers, Alaric Saltzman, Jeremy Gilbert, Bonnie Bennett, Silas, Davina Claire, Sophie Deveraux and Katherine Pierce.

She is the first main female character to die. Jenna's the second and Bonnie's the third.
She and Silas were killed in the 7th episode of their season as a main character, and both were killed by Stefan Salvatore.

Ironically, Vicki's death was the October 31, the date on which Klaus was defeated by Elena and ghosts in Dark Reunion.
Vicki and Jenna are the only main characters to never have killed someone, though Vicki unsuccessfully tried to kill Elena on two separate occasions, Jeremy (thought she was driven by her bloodlust after accidentally biting his lower lip) and Stefan.
Her first living feed was Jeremy Gilbert, though she completed her transition by feeding on the corpse of Logan Fell.
Although Vicki was a grade above Matt, she isn't quite a year older than him.
Vicki is the only main character to never been featured in a mid-season finale.
Vicki is the first main female character to never appear in Season Four, followed by Jenna.
As shown in 500 Years of Solitude, Vicki knows about the existence of The Originals.
Vicki was the first ghost to appear as a ghost in a different outfit than the one she died in;
Vicki has now supposedly been pulled to wherever Katherine's spirit went.

It has been confirmed that she was pulled to Hell, but was able to escape when Matt ringed the bell.
It can be assumed that she is working with Katherine.
Quotes
---
Gallery
References
See also
Community content is available under
CC-BY-SA
unless otherwise noted.