What Lies Beneath is the twentieth episode of the fifth season of The Vampire Diaries and the one hundred ninth episode of the series overall.
Summary
A CABIN IN THE WOODS — When Tyler turns up at the Salvatore house with the news that Markos' plan to break the witches' curse puts Stefan and Elena in imminent danger, Damon suggests they hide out in the remote cabin once owned by Caroline's father. Once there, it becomes obvious to Caroline that Stefan and Elena are keeping a secret, so Damon comes up with a parlor game designed to expose the truth. A ghostly presence at the cabin uses violence and fire to make itself known. Meanwhile, Matt takes charge of Tyler's plan to get information from one of the Travelers and Bonnie continues to keep the truth about the Other Side from Jeremy, despite warnings from Grams.
Plot
SPOILERS AHEAD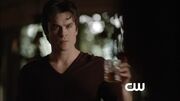 The episode starts with Tyler wakes up on the Traveler's camp and he finds himself chained up. Maria (Tamara Austin), Julian's wife, the traveler who's inside his body, is with him and kisses him believing that he is Julian. Tyler pretends to be him so he can find out what is going on and when he hears Maria saying that Markos found a way to remove the magic from Mystic Falls and he is now on the search for the doppelgängers, he shifts and runs to the Salvatore house to tell them Markos' plan. At the Salvatore house, Damon tries to locate where Enzo is with the help of Luke (Chris Brochu) but Luke can't find him. Stefan joins them and tries to convince Damon to stop looking for Enzo because the reason Luke can't find him is probably because Enzo doesn't want to be found. Tyler interrupts them to tell them Markos' plans and that he is after the doppelgängers as they speak, so Damon and Stefan decide to go with Elena, Caroline and Luke at a place where Luke will clog them with a spell and Markos won't be able to find them.
The four of them along with Luke go to Caroline's father's cabin in the woods to hide. Luke works on the spell while Caroline sees Elena and Stefan acting weird and she thinks that they two of them are back together and want to hide it but the thing they are hiding is Enzo's death. Caroline, plans a game night where she hopes to make them admit they are back together, and Damon agrees since he can also see the way they act and he also believes they hide something but not a romantic relationship. At the same time, Enzo's ghost is at the cabin and wants to make sure that Damon will find out about his death. In the meantime, Bonnie and Jeremy try to have a romantic weekend just the two of them, but Jeremy gets a text from Matt and they have to go home. Jeremy leaves and Bonnie's grandmother, Sheila (Jasmine Guy) appears to her to warn her that she has to tell Jeremy the truth about the Other Side falling apart and not giving him hope that she will find a way to stay alive. While they talk, Sheila knocks over a lamp something that as a ghost shouldn't be able to do.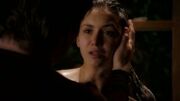 The games at the Forbes' cabin start and Damon suggests to play "Never Have I Ever" where Caroline takes the opportunity to "ask" if Elena and Stefan are back together while Damon asks about where Enzo really is. Things get awkward, Stefan doesn't answer the question and keeps saying that he didn't lie about Enzo, while Elena prefers to leave and go take a bath. Enzo follows her and when she gets into the tab, he pushes her under the water. Elena tries to get on top and at the brief moment she does, she manages to shout out to Damon who rushes into the bathroom but can't see anyone. Elena tells him that someone was pushing her under the water but couldn't see anyone. Damon believes that is the ghost of Caroline's father but can't understand why he would try to hurt Elena and Elena finally tells him the truth about Enzo.
In the meantime, Stefan calls Bonnie to ask if people from the other side can interact with the real world and Bonnie tells him about Sheila. Caroline overhears their conversation and she also knows now that Enzo is dead. They all try to figure out why Enzo would try to drawn Elena since something like that wouldn't work and they realize that this was just a distraction. They rush outside to find Luke but Luke is gone and that means he is no longer protects them with the clogging spell and travelers can find them. They split up to find Luke and then leave the cabin. Caroline and Damon are mad at Elena and Stefan respectively for not telling them about Enzo.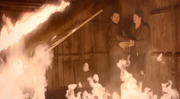 Stefan and Damon find Luke tied up in the barn and they try to untie him when Enzo sets the barn on fire and stakes Stefan in the back. Then he does the same to Damon and wants to keep them there so they'll burn. Stefan manages to remove the stake and Damon forces him to take Luke and get out of the burning barn, while he tries to convince Enzo that he will find a way to bring him back to life since they did it in the past with Jeremy and Bonnie. Enzo frees him and Damon gets out before he gets burn.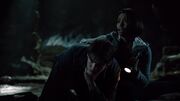 Meanwhile, Matt, Tyler and Jeremy want to find out where Markos is and the only way is to ask the traveler who's inside Tyler body. They tied Tyler up and call Julian. Julian takes over but he doesn't want to tell them anything. He changes his mind when Matt and Jeremy start to torture him and he tells them that he doesn't know where Markos is but he knows that Markos doesn't like troubles so he will probably go on to make him permanent on Tyler's body. The only way to prevent that is for Jeremy and Matt to go and get Julian's body from where the travelers hide their bodies when they possess others. Jeremy and Bonnie go to where Julian told them and start to be searching for Julian's body among the others. While they are searching, Maria appears with other travelers and they get Julian's body leaving Jeremy and Bonnie to go back home without it.
They try to explain Tyler what happened when he starts seeing things and being in pain. At the same time, the travelers burn Julian's body and chant, indicating that they started the spell for making Julian permanent on Tyler's body. Julian takes over again saying: "I assume you didn't find my body" while everyone looks at him terrified to the idea that Tyler is gone for ever. The episode ends at the Forbes cabin, where Damon, Stefan, Elena, Caroline and Luke prepare to leave but the travelers have already found where they are and they manage to capture Elena and Stefan.
Cast
Trivia
Antagonists: Enzo and the Travelers.
All of the main cast is present in this episode.

This is the seventh episode this season to feature all eight cast members.

This episode takes place the day after the events of Man on Fire.
Matt and Jeremy torture Julian (in Tyler's body) for information on the Travelers (i.e. Markos' location) by chaining him up and force-feeding him with water mixed with vervain and wolfsbane. This is essentially what Dean and Sam from Supernatural do whenever they want to coerce a supernatural entity.
Julian now has total control over Tyler's body, as Markos forced Maria to cast the spell to make Julian's Passenger status permanent..

It was thought to be unlikely that Tyler would regain control of his body now that the Traveler's Blade has been destroyed, but once Julian was killed by Markos when he threw him into the anti-magic force field, Tyler's spirit was free, allowing him to be resurrected by Bonnie and Liv in Home. However, because the anti-magic spell removed his vampirism and his activated lycanthropy, he was resurrected as an untriggered werewolf.

Tyler is now the second main character, after Elena, to have a Passenger be given permanent control of their body. 
First time a ship name in The Vampire Diaries and The Originals universe has been mentioned on screen. "Stelena" was said by Caroline.
Enzo and Sheila, who are both ghosts on the Other Side, are shown to be able to touch objects and otherwise physically interact with the living world in this episode. It is revealed that this is another side effect of the Other Side being disintegrated by the Travelers' spell using the mixed doppelgänger blood they took from Stefan and Elena.
Damon kisses Elena at the end of the episode, telling her that he needed it because he had a crappy day. She repeats these same words back to Damon after kissing him in Promised Land.
Elena doesn't seem to notice that Caroline appears jealous of her spending time with Stefan as they search for Luke, though Katherine was able to pick up on it in Total Eclipse of the Heart.
The Travelers capture both Elena and Stefan at the end of the episode.
A new character, Maria, is introduced in this episode. She's Julian's wife.
This is the fifth episode of the fourth chapter of Season Five, The Travelers Chapter, (While You Were Sleeping to Home.)
Continuity
Despite being killed by Stefan in Man on Fire, Enzo appears in this episode.
Liv is mentioned in this episode by Damon and Luke. She was last seen in Man on Fire.
This episode marks the first appearance of Maria.
Bill Forbes is referenced in this episode; the cabin he formerly owned is used as a hideout for Elena and Stefan so the Travelers can't use them to break the Travelers' Curse.
Elena learns from Stefan that it was Damon who brought her back to her room in Man on Fire, as she had awoken alone in her dorm room with no idea how she got there.
Caroline and Sheila Bennett were last seen in Resident Evil.
Stefan suggests Enzo may have found a witch to do some kind of cloaking spell when Luke can't find him with a locator spell.
Luke explains to Damon that Liv wasn't with him because she was tired of nearly being murdered.

She was first nearly killed by Damon in Rescue Me, then again by Elena in While You Were Sleeping, and again by Enzo in Man on Fire. She would later have her life threatened once again in Home, though it ended up being her brother that was truly killed to motivate Liv into doing the spell to resurrect the dead members of the Mystic Falls Gang before the Other Side was destroyed.

While playing "Never Have I Ever" at the cabin, Stefan says, "Never have I ever had a ghost burn me alive." He is referencing the events of Season Three's Smells Like Teen Spirit, when Vicki tried to burn Elena alive in Alaric's car just after they had weakened Stefan with vervain and thrown him in the trunk. They were both saved by Alaric, who was outside of the car during the fire.
Locations
Behind the Scenes
This episode had about 1.84 million viewers in USA, which was 0.03 million more than the previous episode.
Hashtag during the airing is #TruthOrScare
Cultural References
Quotes
---
---
---
---
---
---
Multimedia

"River" – Together Pangea


"Turn It Around" – Lucius


"Chemical" – Kerli
Videos
Pictures
References
See also
Community content is available under
CC-BY-SA
unless otherwise noted.