"
Damon: Look who got 27 across.
Bonnie: Huh, I wish. 27 across is a rock I am pushing up an endless mountain.
Damon: It's an old tongue twister. "Eddie turned top 40?" Eddie Vedder, Pearl Jam? "Yellow Ledbetter."
Bonnie: Are you messing with me?
Damon: No... You messing with me?
Bonnie: I didn't finish this.
Damon: Well, neither did I.
Bonnie: (stunned) There's someone else here.
"

Yellow Ledbetter is the second episode of the sixth season of The Vampire Diaries and the one hundred and thirteenth episode of the series overall.
Summary
A LONG WAY HOME — Knowing she needs to come to terms with the loss of Damon, Elena turns to Alaric to help her move on with her life. Enzo convinces Caroline to join him as he tracks down a lead to get Damon and Bonnie back, but Caroline is shocked when they make an unexpected detour and uncover what Stefan has been up to. Meanwhile, Matt worries about Jeremy who is spending time with Sarah, a mysterious girl who has recently arrived in Mystic Falls. Elsewhere, Tripp, leader of the community protection program, makes an interesting confession to Matt about his connection to the town. Lastly, with the Other Side destroyed and gone for good, Damon and Bonnie reluctantly bond together to uncover the mystery of where they are and how they are going to get back home.
Plot
SPOILERS AHEAD
Caroline embarked on yet another epic road trip with Enzo. It seems Alaric has been having Enzo investigate some leads for him. Enzo will do whatever it takes to bring Damon back, even if that means making out with a coat check girl for intel. Yeah, we doubt that was hard for him.
Enter Caroline, who is desperate for a lead and let's face it, a little bored with her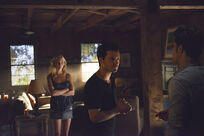 current routine. Enzo tells her that he may have found a group of witches that might be able to help them, but instead, he leads her to Stefan. And then they have the most awkward dinner ever with Stefan and Ivy. Clearly, Caroline is hurt. Not only has Stefan ignored her all summer, but she finds out he has a new life with
new girlfriend
.
Enzo does what he can to make things even more awkward the quote, "I'm a neck person is uttered"—even stabbing Stefan with a fork in front of Ivy and spoiling dinner for everyone. Understandably, Enzo is angry with Stefan for giving up on Damon, but he's not the only one upset with Stefan: Caroline wants to know why he's been ignoring her all summer. She wants her friend back; meanwhile, Stefan wants to forget he even had friends.
That's when Caroline does the most badass thing she's ever done.
She calls Stefan a dick and walks out. I am so happy to see a female character on this show take control. Yes, she still cried her eyes out in the car after their little fight , but at least she said what we've all been thinking. Stop being such a dick, Stefan, and go help your friends bring your dead brother back to life. But still, Stefan needed more of a push to take action, so Enzo kills Ivy in front of him—hey, Enzo doesn't play around. Somehow, So it sounds like Stefan is going to make his way back to the Mystic Falls area to get his revenge on Enzo—that's a fight we can't wait to see—and hopefully, we'll see him and Caroline resolve their issues. Because let's face it: we really want to see Steroline happen.
Meanwhile, Alaric was tasked with compelling Elena to forget she loved Damon. The show did a beautiful job with intercutting the present day with past Delena scenes. Elena remembered their first kiss, the first time she ever thought Damon was sexy it was in the Miss Mystic Falls pageant, but there was one thing she wasn't allowing herself to remember: the moment she knew she loved him. And that's because she was still with Stefan at the time.
Elena fell in love with Damon on her birthday—for TVD fans, that's Season 3, Episode 1 ("Birthday"). Stefan was off Ripper-ing with Klaus, and Elena was grieving his departure. Her friends were throwing her a birthday party, and she really didn't want to go—that is, until Damon knocks on her door and gives her the one thing that she really needed in that moment: the necklace Stefan gave her in Season 1. And that was the moment Elena knew. Damon could have confessed his love for her, but instead, he gave her something that would remind her of Stefan, and remind her not to keep fighting for him.
With that, Alaric was able to compel Elena to forget she loved Damon. Damon is no longer her boyfriend, the man she loves—now, he's the jerk who killed Jeremy. He's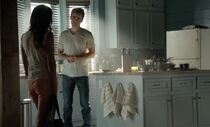 dead, but that's okay. It's going to be interesting when Stefan returns. If this is an Elena who never loved Damon, does that mean she still loves Stefan? Oh, love triangle. We just can't seem to quit you. As for Damon, we're starting to piece together where he and Bonnie have ended up. Here's what we know: They're in Mystic Falls reliving May 10, 1994. So why that day? It may have something to do with the lunar eclipse that happened. We all know that witches love to cast spells during an eclipse. Whatever it is Damon and Bonnie need to work fast because they've just learned that they're not alone. Who could in this AU with them? Whoever it is, he or she has clearly lived through the '90s because they managed to finish Bonnie's crossword puzzle—but is it someone older or younger than Damon? And have we met this person before?
Despite claiming he's "stuck with the useless version" of Bonnie—don't lie Damon, she's always been kinda useless—she managed to find Grams's grimoire, so here's hoping Bonnie can teach herself some magic STAT because their days of carelessly flipping pancakes and dancing along to Salt-N-Pepa are over.
As for the real Mystic Falls, well, Matty Blue Eyes is going to have his hands full once he realizes what his mentor Tripp it up to. Not only do we learn that Tripp is a Fell—so he's a member of one of the founding families—we also learn that he's been executing vampires by driving them into Mystic Falls. Does this make Tripp the new Uncle John?!
Cast
Main Cast

Special Guest Star

Recurring Cast

Co-Starring
Trivia
Antagonists: Enzo and Tripp.
This episode is Elena and Damon-centric and is also the first flashback episode of the season by relating to key moments of their relationship.
The dimension where Bonnie and Damon were trapped is first seen in full depth.
Katerina Petrova was mentioned in this episode by Elena when she recalls that in As I Lay Dying, Katherine told her that it was okay to love both Stefan and Damon, because she did as well. It is also the first mention of doppelgängers this season, as Elena calls Katherine her "evil doppelgänger."
Elena is seen packing up reminders of her relationship with Damon to be put in storage before Alaric compels her to forget their relationship. She's seen packing up photos, some of Damon's clothes, and a diary, among other things.
Elena recalls several key romantic memories with Damon. These are also the memories that are later shown to be altered by Alaric's compulsion.
Alaric compelled Elena to forget about her feelings for Damon, and without her memories of loving him, she now sees him only as Stefan's brother and a monster. Alaric was shocked by the hatred she showed of Damon right after her "signature" memory was altered, when the sound of Damon's name caused her to remember that he tried to kill Jeremy in The Return.
Elena is surprised that Caroline is against her plan of having Alaric compel away her love for Damon, but Caroline reminds her that they're following a lead to bring back Damon and Bonnie, and worries that if they're successful, Elena being compelled to forget her relationship with Damon will make things awkward and confusing for everyone. Elena assures Caroline that Alaric can compel her to remember her altered memories if Damon does end up coming back.

However, this "failsafe" ends up not working out (at least not in the way Elena originally thought), because Alaric is thrown over the anti-magic barrier in The More You Ignore Me, The Closer I Get and is returned to being a human before he is able to return Elena's memories with compulsion.

Despite this issue, Elena's memories are eventually returned in I'd Leave My Happy Home For You when she takes the cure Bonnie brought back from the 1994 Prison World and becomes a human doppelgänger again.

Tyler, Stefan, Matt, Alaric, and the reluctant Jeremy and Caroline all agree to keep the fact that Alaric compelled away Elena's memories of loving Damon a secret from her.

Though Elena assumed in her letter to herself in her diary (to be read in the case that she was told about the compulsion) it would be Caroline to "spill the beans," it was actually Stefan who ultimately told her the truth about Alaric compelling her at her request in Black Hole Sun.

Enzo demonstrates that he has a soft spot for Caroline during his fight with Stefan.
Believing Stefan is being selfish by giving up on his brother and wanting to give him payback for hurting Caroline, Enzo snaps Stefan's girlfriend Ivy's neck and promises that he will deliver on Damon's old promise for an 'eternity of misery' himself.
Tripp reveals he is a member of the Fell Family, one of the Founding Families of Mystic Falls. He is also shown to have at least a little knowledge of the anti-magic spell over Mystic Falls, because he uses it to kill vampires that he finds lurking around the borders.
Tripp reveals that he grew up with Elena's adoptive father/biological uncle Grayson Gilbert before his mother divorced his father and left Mystic Falls. He tells Matt that the name Tripp is a nickname, that his real name is Thomas Vincent Fell III, and that he took his mother's maiden name, Cooke, so he wouldn't be known as Tripp Fell.
Abby and Grayson Gilbert were mentioned in this episode by Jeremy and Tripp, respectively.
Bonnie and Damon discover that they're not alone in the "Otherworldly Time Dimension."
Matt learns that Sarah stole the car she used to get to Mystic Falls, and as a result of that and the fact that Sarah was attacked by Elena, Matt decides he can't allow Sarah to stay at the Lockwood Mansion anymore.

Jeremy, still feeling rebellious due to his grief regarding Bonnie's death, then decides to stay at the Salvatore Boarding House and tells Sarah she can stay with him there while she looks for her father.

Bonnie goes into her own home in the 1994-world she and Damon are in, where she finds Ms. Cuddles, a teddy bear she lost when she was nine years old. She also goes into her Grams' house and retrieves her grimoire in hopes that she can use it to reactivate her magic so they can finally leave the dimension and go home to their loved ones, as she was sure that Grams sent them to their mysterious dimension knowing that Bonnie would be able to get them out.

It was later revealed in The Day I Tried To Live that Bonnie didn't actually lose her bear as a child—Caroline stole it after she and Bonnie got in a fight, and because she didn't want her mother to find out that she stole it, she ran out into the woods and buried Ms. Cuddles there. Caroline would later go back to the woods with Stefan to dig her up in the same episode.
Several other vampires - Forced into the Mystic Falls "anti-magic" barrier and burned in sunlight; killed by Tripp Cooke.
Locations
Savannah, Georgia
McKinley, Virginia
Unknown town
Continuity
Behind the Scenes
This episode had 1.67 million viewers in the USA, which is 0.14 million less than the previous episode.
Hashtag during the airing is #WhenElenaKnew
Cultural References
"Yellow Ledbetter" is a song by Pearl Jam, released in 1992 as a B-side to the single "Jeremy". In 1994, it reached 21 and 26 on the Billboard Mainstream Rock Tracks chart and Modern Rock Tracks chart, respectively.
Quotes
Elena: "Missing Bonnie, makes me sad, Jer. Missing Damon makes me dangerous."
Multimedia

"Salvation" – Gabrielle Aplin


"Hello Goodbye" – Israel Cannan


"I Got Something For You" – Tim Murdock


"Now You Know" – The TVC


"All That Glitters" – Romans


"Whatta Man" – Salt N Pepa feat. En Vogue


"Little Miss Can't Be Wrong" – Spin Doctors


"Connected" – Stereo MC's


"All Through The Night" – Sleeping At Last


"Everybody Hurts" – Bread & Butter


"Everybody Hurts" – REM
Videos
Pictures
References
See also
Community content is available under
CC-BY-SA
unless otherwise noted.